Enjoy your breakfast
At Nuits Saint-Pierre, breakfast is not just a meal, it's an experience of pure delight. Our motto: taste, nutrition, abundance.
You will find freshly baked bread and « viennoiseries » (croissants and the like) and homemade pastries, as well as a more hearty dish: bacon and eggs, "crêpes", French toasts etc…. We also serve a range of coffees selected for the richness of their aroma and a selection of fine teas: English Breakfast, Earl Grey, Darjeeling, green tea, etc…
Breakfast is served from 7:30 to 9:30 during the week, and from 8:00 to 10:00 on weekends.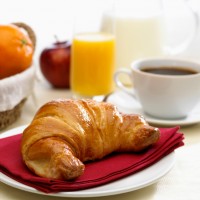 You can take it in your room (extra charge of 5 €/person)  or in the dining room.
Breakfast is complimentary.